A Vineyard Designate Pioneer in Sonoma County
---
Sonoma County is a diverse growing region with a complex terrain of small valleys, benchlands and hillsides. A coastal appellation, it is favored with fog in the morning and sunny afternoons cooled by maritime breezes. From the cool Carneros area in the south to the more moderate Russian River and Alexander Valleys further north, a wide variety of grapes benefit from this optimum climate to achieve rich varietal flavor.
Chateau St. Jean was a pioneer in vineyard designated wines in Sonoma County with the introduction of Belle Terre Chardonnay in 1975. Considered vineyard sourcing from throughout Sonoma County to showcase varietal expression remains the cornerstone of our winemaking philosophy.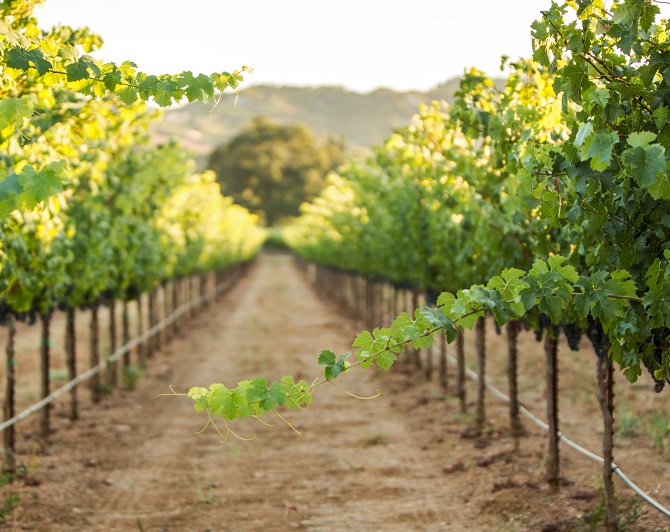 Sonoma Valley
Chateau St. Jean Estate Vineyard
The St. Jean Estate Vineyard surrounds the winery and tasting room in Kenwood. The property consists of 270 acres with 90 planted acres of premium varieties. Chardonnay, viognier, cabernet sauvignon, cabernet franc, malbec, merlot and petit verdot are planted. In select years, Chateau St. Jean produces a single vineyard cabernet franc, malbec, and merlot from the vineyard. The Bordeaux varieties, merlot, malbec ,and cabernet franc, also contribute to the winery's flagship wine, Cinq Cépages.
Knights Valley
Located in the easternmost edge of Sonoma County, Knights Valley is nestled between the Mayacamas mountain range and the base of Mount St. Helena. At 350 to 600 feet elevation, it is Sonoma County's warmest AVA, with mountain vineyards at 1,400 feet. From these vineyards with mineral-rich, well-draining volcanic soils comes cabernet sauvignon with black fruits intertwined with warm spices, tobacco and vanilla for rich and weighty wine with a lengthy finish.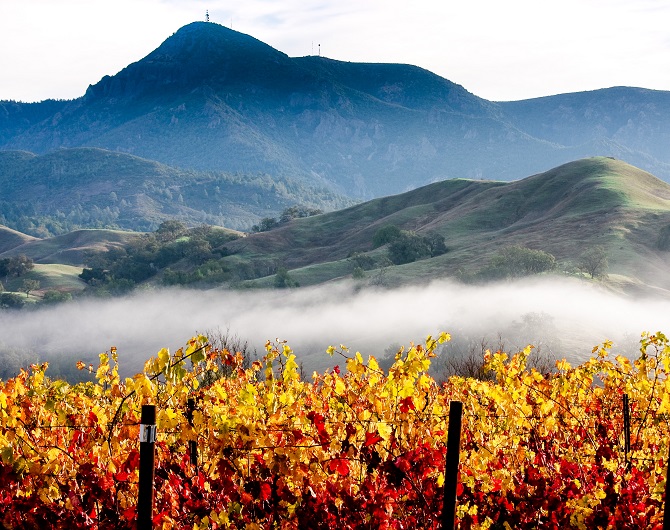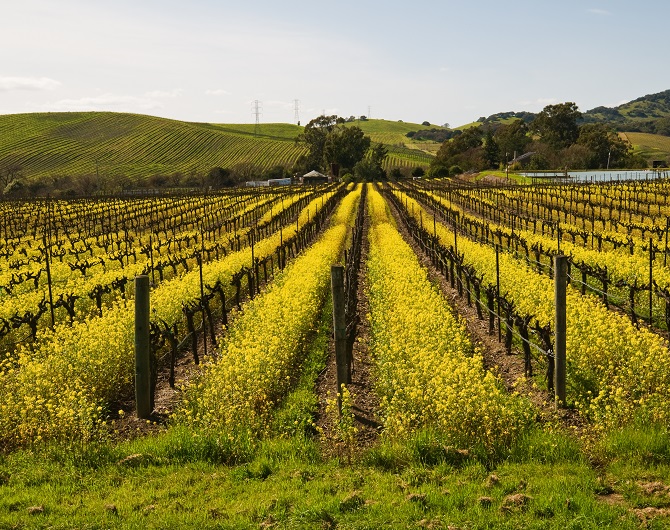 Carneros
This cool wine region sits at the southern end of Sonoma Valley, with close northern proximity to the San Pablo Bay, where strong winds and fog create a constant flow of cooling air. Predominantly clay and very thin and shallow, well draining soils contribute to conditions where chardonnay and pinot noir thrive, producing wines with balanced acidity, minerality and weight.
Alexander Valley
Belle Terre Vineyard & Lyon Vineyard
In 1975 Chateau St. Jean released its first single vineyard wine, Belle Terre Chardonnay, and has continued to produce chardonnays from this vineyard located on the Russian River in southern Alexander Valley. The vineyard terrain consists of gently rolling land with well-drained, gravelly and sandy loam soils.
Lyon Vineyard, in the northern end of the valley, is farmed biodynamically, with a a strong maritime influence and extreme temperature swings, giving sauvignon blanc fruit time to develop intense flavors balanced by crisp acidity and a mineral texture.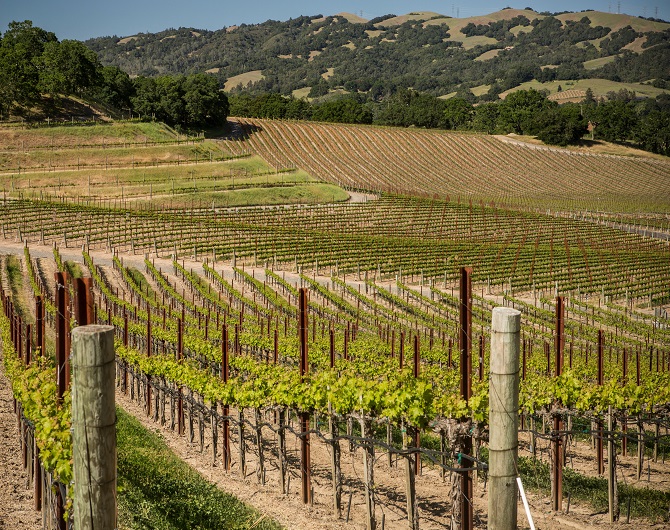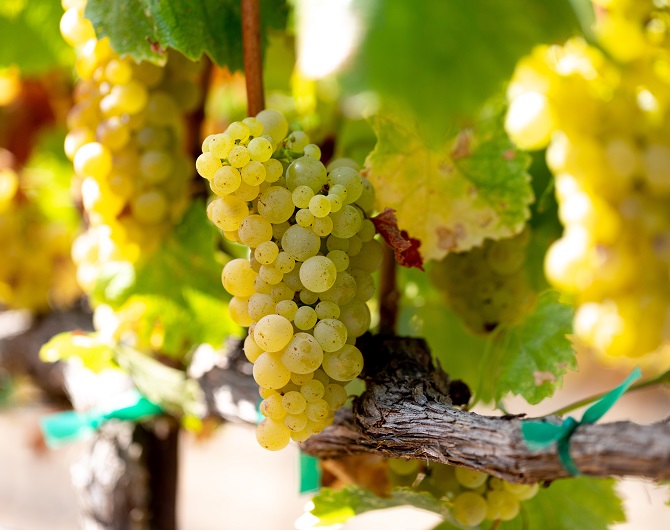 Sonoma Coast
Gap's Crown & Benoist Ranch
Perched on the western hillside of Sonoma Mountain in Sonoma Coast's Petaluma Gap, Gap's Crown's rugged, rocky soils and cooling Pacific winds create exactly the kind of stress it takes to produce rich but structured chardonnay.
Benoist Ranch is a premium cool-climate vineyard nestled near the California coast, producing low yields of concentrated fruit with good acid retention, which result in rich, layered pinot noirs with fantastic aging potential and rich and layered sparkling wines.
Russian River Valley
Hallberg Vineyard
Cool-climate Hallberg Ranch is sited on a ridgetop in sandy-loam soils and enjoys beautiful sunny afternoons tempered by fog and coastal breezes, allowing the grapes to retain crucial acidity and to produce pinot noir with deep ruby color, pure flavors, and seamless structure. Unusual in California, the vineyards distinctive soils allow it to be dry-farmed allowing the grapes to achieve ideal ripeness at lower sugar levels.